West Palm Beach AC Repair - AC Repair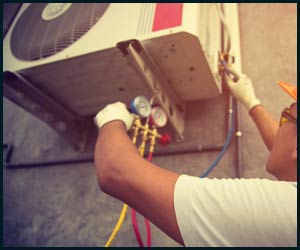 Summer is just round the corner and your first instinct is to switch the air conditioner on! West Palm Beach, FL is known for its brutal summers so it is not uncommon for each home or office to be fitted with an air conditioner. From your car to a mall to a restaurant, your home, office, and even the building is air conditioned these days. Can you really imagine a life without one? So what happens when your AC malfunctions? Will you make the rookie mistake of calling the first name that pops up on your search engine or make a smart choice of hiring the right professional? We strongly recommend that you choose the latter!
West Palm Beach AC Repair is an AC repair agency with 20+ years of experience. Since AC malfunctions can happen anytime, we provide 24/7 service to our residential and commercial customers in West Palm Beach, FL area. Don't worry if your air conditioner is not cooling anymore or it stops working in the middle of the night. Just call us at 561-508-9912 and we will come to help you within 20-minutes.
HOW TO KEEP YOUR AIR CONDITIONER RUNNING, ALWAYS?
Learning to read the signs:
It may seem like your air conditioner has stopped working without a warning. However, that is not the case. In most cases it gives you signs of failure such as whirring sound, reduced cooling etc. But we often overlook these signs until it breaks down completely.
In some cases, your AC may stop working without warning, but in a vast majority of situations, there are subtle signs that hint a breakdown in advance. Some of the signs may include a drop in cooling, poor air flow, excessive noise during operation, thermostat problems, bad odors, short cycling of the unit, a jump in electricity bills etc.
What you must do: If you notice thermostat issues, increased electricity bills etc., don't ignore these signs. Instead, call a professional technician immediately before the issue aggravates.
Hire the right repair expert:
We cannot stress enough how important it is to work with the right company rather than trying to fix these issues yourself. You may actually end up causing more damage that will result in expensive repairs.
What you must do: You can simply call West Palm Beach AC Repair and allow its professionals to take stock of the situation. We will be at your doorstep in 20-minutes or less and get your air conditioner back to life.
A viable maintenance plan:
Maintenance is an important part of enhancing your AC's lifespan. To avoid unexpected failures and untimely death, you should follow a regular maintenance process. We can diagnose problems long before they become fatal and expensive replacements.
What you must do: If you want to prevent the uneasiness of a malfunctioning air conditioner at odd times, then you need to get a reputed company on board for a customized maintenance plan.
HOW OUR REPAIR SERVICE COMPARE TO OTHERS?
If you go looking, West Palm Beach, FL area has enough AC repair companies than you can count! However, are they all trustworthy enough to provide you service in odd hours? Do they have fully-trained, trustable technicians? Are they experienced to handle all kinds of equipment? Can they arrive promptly in your hour of need? If you are unsure about the answer to these questions, then this is not the company you want to work with!
West Palm Beach AC Repair, on the other hand, gives you 24-hour service guarantee of proficient technicians who have over 20 years of experience under their belts. They can work effortlessly on HVACs, window ACs, ductless split ACs etc. with equal finesse.
When you come to us for air conditioner service in West Palm Beach, FL area, we do everything that suits your needs and that too without charging you a premium for it!
So if you see your air conditioner acting up, just pick up the phone and dial 561-508-9912!