West Palm Beach AC Repair - New AC Installation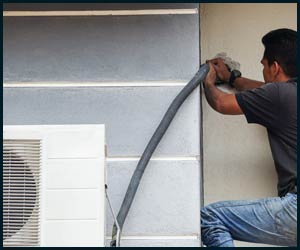 Buying a new air conditioner can be an expensive deal and then not getting it installed properly is the quickest way to shave years off its lifespan. When you are looking for a technician for new AC installation, just bear mind that whatever you do from here will have a direct impact on your AC's efficiency and performance over the years. Allowing an inexperienced tech guy to handle the installation of your AC may result in frequent repairs, high energy bills and an early death. This is the reason it is extremely crucial to not hire just about anyone for an expensive machine such as an air conditioner.
West Palm Beach AC Repair has been in the business of AC fitting for more than 20+ years, serving West Palm Beach, FL customers, both residential and commercial. We have gained experience in handling all kinds of air conditioners, of all shapes and sizes. So whether it is a complex HVAC unit or a portable AC for your kid's bedroom, you can easily entrust it in our experienced hands.
A PRO VS. AN AMATEUR: WHAT'S THE DIFFERENCE?
Buying the most expensive AC in the market will not exempt your unit from falling into troubles later. In fact, mishandling such a pricey unit can be dangerous as it can cost you a fortune in trying to regain its original integrity! Its lifespan and efficiency depends on who installs the unit for you.
An incompetent professional will make following mistakes during the fitting process:
Recommending the wrong size: This is one of the most common mistakes and the first sign that the technician doesn't know what he is doing. Recommending a unit that is either too big or small can have an adverse impact on its machinery, resulting in an undue pressure.

Improper wiring: Wiring is the key to making your air conditioner work properly. Not having experience in tackling wiring can lead to electrical issues that can be hazardous.

Inadequate insulation: Any open gaps or windows will affect the unit's performance. Therefore, all these crevices and cracks must be identified and closed during the process of installation. Moreover, there needs to be sufficient insulation that an untrained technician may not know about.

No proper set up: Did you know that something as inconsequential as a loose nut can lead to unit's poor performance? A vibrating will wear off much faster than its years. This is why it must be installed snugly in its place.
If you don't want any of these things to happen to you, then don't work with someone who doesn't have enough experience. Instead, only hire a professional technician from West Palm Beach AC Repair who knows AC installation like the back of his hand!
WHAT WE DO?
Replacing an old AC:
If you are looking to replace your old AC with the latest model, then we can be of huge help. Call us and talk to our experts. They will recommend just the right unit after assessing your property and your requirements. We also take other factors such as sun exposure, space, number of people etc. into account before making our suggestions.
Installation in a new construction:
Installing an air conditioner in a building that has been just recently constructed can be a difficult task as everything needs to be done from the scratch. However, our professionals can work closely with you in carrying out the process flawlessly. When we install your AC, we work with you from the beginning till the end.
Need a professional installation service in West Palm Beach, FL area? Call us at 561-508-9912 right now to avail the best assistance you can find!